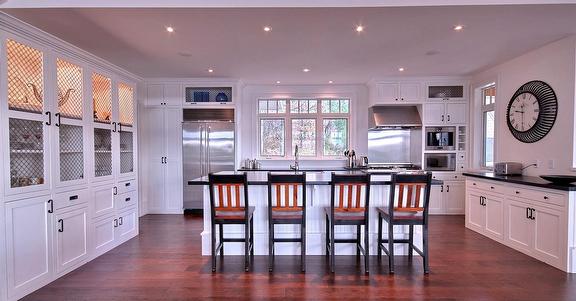 Smart Renovations: Improvements that Pay
So you're thinking about doing a kitchen facelift, putting on an addition or landscaping your yard. If you're renoing your cottage with an eye to upping resale value, you may want to focus your dollars on projects that will give you the best return.
1. The kitchen
Kitchen renos usually offer the best return of any major improvement. Just make sure you're keeping your update in line with the rest of the cottage and with other cottages in the neighborhood. If you put a $60,000 kitchen into a $200,000 cottage, you don't have much of a chance of recouping your costs.

Don't have major bucks to sink into your kitchen? Sometimes a small facelift like new hardware, freshly painted cabinets or new appliances can make a big difference – to both your resale value and your own appreciation of the space.
2. The bathroom
Buyers like bathrooms that are up-to-date and stylish. Despite being one of the most expensive renos you can undertake (second only to kitchens) updating an existing bathroom or adding a new one can really boost the value of your cottage. If your cottage only has one bathroom, adding a second one is always a good idea. 
3. The basement
Finishing your basement (or your attic or any other unfinished area) can increase the value of your cottage tremendously. Adding living space almost always pays for itself. Plus, it's more cost-effective than building an addition.
4. Additions
A well-constructed addition usually offers a good return at resale. Improvements that increase functional space (rather than just making your cottage look better) hold their value longer. Just be careful not to add on so much that there's no space left on the outside; a yard that's too small may not appeal to buyers.
6. New paint (interior and exterior)
Painting your cottage is inexpensive, easy, and is one of the few investments you can make that will likely see a significant profit. Stay away from intense or unusual colors that won't appeal to most buyers – tasteful, current neutrals are best.
7. New deck
An attractive, well-designed deck is a cost-efficient way to add usable square footage to your cottage, and offers excellent payback.
8. General improvements
These may seem boring, but overall, fixing the small stuff may increase the value of your cottage the most. Before you spend money putting in a Jacuzzi tub, first see if any structural or mechanical fixes take priority (like roof repairs, fixing a leaky basement, repairing doors that stick, dripping faucets, etc.) The Jacuzzi isn't going to impress anyone if the toilet doesn't work.
Improvements that DON'T pay
There are some fixes that simply don't provide a good return on your investment.
Replacing heating or A/C
You may make half of your money back at resale.
Replacing windows and doors
If they're old and drafty, you'll need to replace them, but it's an expensive repair that you won't likely see reflected in your sale price.
Quality counts
Whatever improvements you decide to make to your cottage, don't cut corners to save money. A poorly done reno will detract from the value of your cottage, especially if buyers decide they need to redo it.
Callout: "If you're renoing your cottage with an eye to upping resale value, focus your dollars on projects that will give you the best return."